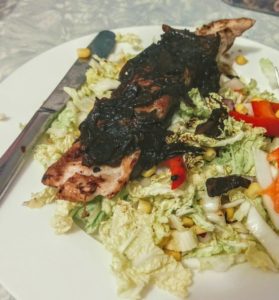 I was aiming for Mexican-inspired, but this came out more like a café "Thai beef salad".
While it was nice enough, I'd like to have another try at some point. The salad could use more zing — maybe fresh coriander?
The sauce also came out very salty (like a Thai fish sauce) so I may have added a bit too much salt.
Serves: 4
Cooking time: 45 minutes
Ingredients
Salad
1 small wombok or other cabbage (~ 100-200 g), shredded
1 red capsicum (bell pepper), sliced into strips
1 Spanish (red) onion, diced
1 can corn kernels
Turkey
500 g turkey breast, sliced into 4 pieces
1 onion, sliced
1 cm ginger, chopped very finely
1 tsp coriander seeds
1 tsp chilli flakes
1 tbsp dried coriander (cilantro) leaves
Reserved corn liquid
Salt & (optionally) pepper, to season
Method
Drain corn, reserving liquid. Toss with wombok, capsicum, and onion, and set the salad aside.
In a hot pan, fry onion, ginger, and spices until fragrant.
Add turkey to pan. Sear well on all sides, then reduce heat to low, and fry until cooked through.
Once turkey is cooked, remove it to rest somewhere warm.
Return pan to high heat, deglaze with reserved corn liquid, then add coriander. Reduce sauce to desired thickness — not too thick, this is your salad dressing!
(If any liquid has drained out of the turkey, add that to the sauce too.)
Divide salad between four plates. Top each with a piece of turkey, drizzle on sauce, and serve. You could probably slice the cooked turkey first, but I was too lazy to bother.